Wynyard Transit Shop closure has drivers seeing red
The closure of the Transit Shop inside Wynyard station, just off Carrington Street is causing chaos for drivers in the area.
The shop was shut down about eight weeks ago after an OH&S check by WorkCover revealed an unsafe airconditioning system. State Transit maintains it is not their problem – it's up to RailCorp to fix.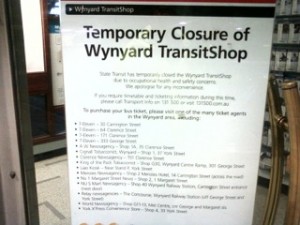 The three staff who sold tickets and gave information and advice to travellers have been put on other duties. As a result, drivers are having to deal with irate passengers who can't get any information about bus routes or which ticket is appropriate for their journey – and drivers are reporting that many are ending up with a ticket that is more expensive than they need or are underpaying for their journey.
Peak hour is particularly bad as people are directed to buy tickets at local convenience stores where they can get no advice or information, and worse, are hit with a surcharge for using EFTPOS and credit cards, or are told they can't us EFTPOs unless they buy some other product.
The union has been fighting to keep this shop open for years and some drivers suspect that State Transit do not want to reopen the shop so they can redeploy the three staff elsewhere.
Peter Gretch from the North Sydney depot has written to the Minister for Transport Gladys Berejiklian two weeks ago but has received no response.
This is one of the busiest Transit Shops in the city centre, serving both local commuters and tourists.
"The importance of this shop is immense," says Divisional Secretary Chris Preston. "It has huge sales and it means that passengers at Wynyard can board the buses without having to worry about where they can get their ticket from."
It's a disgrace that State Transit and RailCorp are busy passing the buck when travellers are being seriously inconvenienced and bus drivers have to bear the brunt of their frustrations.