Waverley Depot answers critics
A recent article in the Wentworth Courier, in which local shop owners complained that bus drivers were driving dangerously and damaging shop awnings, sent blood pressures sky-high at Waverley Depot.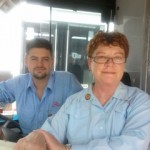 Never one to shy away from an issue, delegate Wendy Wirth, drafted a very restrained letter that was printed in full by the paper.
"I could have written a lot more than I did, but I held myself back, " said Wendy.
"If they want to get into the nitty gritty of issues such as safe driving, I'm happy to discuss it with them.
"Our drivers are all skilled, professional and dedicated.  They were justifiably angry at the inferences made in the newspaper."
Click here to read the Wentworth Courier bus article and Wendy's response.