Unprovoked attack on driver just one incident of many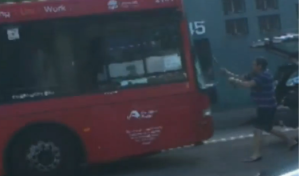 Following the attack of another Sydney bus driver, the Bus and Tram Division Secretary Chris Preston has called on the courts to deal swiftly with the offender.
"Drivers have a lot to deal with while out on the road, and the last thing they need is to be harassed for just doing their job," Chris Preston said.
"Not only are they battling against Sydney traffic, they also have to deal with road rage, verbal assaults, spitting, and as this week saw, shovel attacks. Enough is enough.
With the offender arrested, Chris Preston said it was up to the authorities to deal with him.
"I understand that the man has been questioned by police, and I would expect that he will be dealt with properly to act as a deterrent to others who may think that they can get away with a cowardly act," Mr Preston said.
Union representatives have reviewed the security camera footage and found the bus pulled out from the curb with plenty of distance, yet still provoked this unnecessary outburst.
When the offender became enraged the driver closed his window to try to defuse the incident but as you have seen the thug took offence to this & decided to attack the bus.