Union calls for transport minister to resign
Newcastle Herald, Ian Kirkwood
A SMALL group of Rail, Tram and Bus Union members converged on the new Newcastle Interchange on Friday to call for the head of Transport Minister Andrew Constance.
Mr Constance is expected in Newcastle on Monday for the official opening of the $200 million project.
The first trains are set to run in and out of Wickham station from the early hours of Sunday morning.
The union's state secretary, Alex Claassens, said Mr Constance had "treated workers like dirt" in the privatisation of Newcastle Buses and had no regard for the community in his tearing up of the old heavy rail line and the running of light rail down Hunter Street.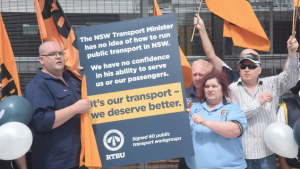 The union's bus division secretary, Chris Preston, said Newcastle had been used as a test run before privatisation of government bus services in Sydney.
He said some Newcastle bus drivers were still experiencing pay difficulties with new operator Keolis Downer, who should have "shadowed" the state operator before the handover to ensure things went smoothly.
Mr Claassens said there was a statewide dissatisfaction with Mr Constance.
"Hundreds of public transport workers in more than 60 workplaces across the state – including workers from Newcastle – have moved motions of no-confidence in Andrew Constance, saying it's time for the Minister to step aside," Mr Claassens said.
He said the government's real intentions had been revealed to a recent business gathering, when Mr Constance said he was looking forward to the era of driverless buses and trains so that he didn't have to deal with workers.