Too long between buses for Tempe residents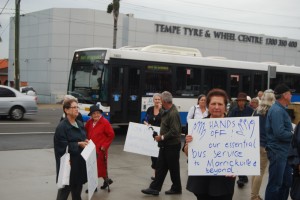 More than 40 residents picketed the Tempe Bus depot last week in protest against a cutback in local bus services.
The community are very upset about closures of bus stops along the Princess Highway and the reduction of some daytime services which go to Marrickville and Dulwich Hill throughout he day.  Older residents are particularly disadvantaged by fewer services during the day as they relied on buses to do the shopping and get to various appointments.
Residents first raised these problems with STA management about a month ago and were reassured the Authority would get back to them. The community said they never did.
RTBU Bus and Tram division and local drivers support locals in their campaign for better services.