The Magnificent Seven
Community anger has been mounting over the NSW Government's unfair state sector Industrial Relations laws, and Tram & Bus Division members have been front and centre at the public protests.
A snap rally was held outside Parliament House at lunchtime on Thursday 9 June – with the highlight of the rally being the arrival of seven STA buses and several fire engines which then proceeded to block Macquarie Street.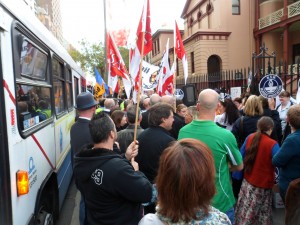 It was a courageous act under fire by the Magnificent Seven drivers – who took their buses on a "detour" along
Macquarie Street for the occasion.
The presence of the buses and the 50 bus drivers who turned up with one hour's notice was a coup, and drew attention to the impact the State Government's laws will have on hard-working bus drivers.
Congratulations to the Magnificent Seven, and our friends the firies – your actions were greatlty appreciated by all your comrades!
Just days later, bus drivers were again in the thick of it at the mass rally on Wednesday 15 June.  Hundreds of drivers were in attendance, flying the flag for the RTBU.  Brookvale Delegate Narelle Sinclair gave a great speech to the 12,000-strong crowd.
It's going to be a long and difficult fight, but we can't afford to let Barry O'Farrell steamroll our rights.