The Hot Topic
RTBU joins with community voices to demand change
The Sydney Town Hall was packed to the rafters last Thursday as 2000 people gathered for the founding assembly of a new community activist organisation, the Sydney Alliance.
Taking the lead from its hugely successful sister organisations in London and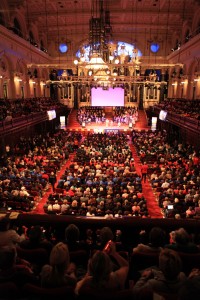 New York, the Alliance brings together community groups to work towards a shared goal of promoting issues that contribute to the common good in Sydney – giving people the chance to have a say in decisions that affect their lives.
As well as speeches from community members who shared their experiences of life in Sydney and their ideas for positive change, the Alliance launched The Agenda for the Common Good – a new vision for community care and health, transport and social inclusion.
The RTBU is proud to be a founding member of the Alliance and it contributed a sizeable group to the founding assembly, with delegates from all depots and members from across every division of the union attending.
"It was a fantastic night," said Division President Gary Way. "We are extremely optimistic about the possibilities of the Alliance to influence government to build a better community – including a better transport system. People have had a gutful of political parties pursuing their own political agenda and ignoring community concerns. The Alliance will make the politicians and bureaucrats finally stop and listen."
The event has already captured the State Government's attention, with two Liberal members, Charles Casuscelli, Liberal Member for Strathfield, and Dr Geoff Lee, Liberal Member for Parramatta agreeing, under pressure, to attend a transport assembly in Penrith to discuss the customer service standard.
Partners of the Alliance, which is not politically aligned, come from all parts of society, from a variety of religious faiths and from community groups representing the interests of young people, migrants, women and unions.
Statements of support were received from Cardinal George Pell and the Governor of NSW Marie Bashir who said the work of the Alliance "can demonstrate a model which will contribute to the greatness of Australia, a model for communities everywhere."
Check out more photos from the event on the Unions NSW flickr.