Reporting back: Region 6 24-hour strike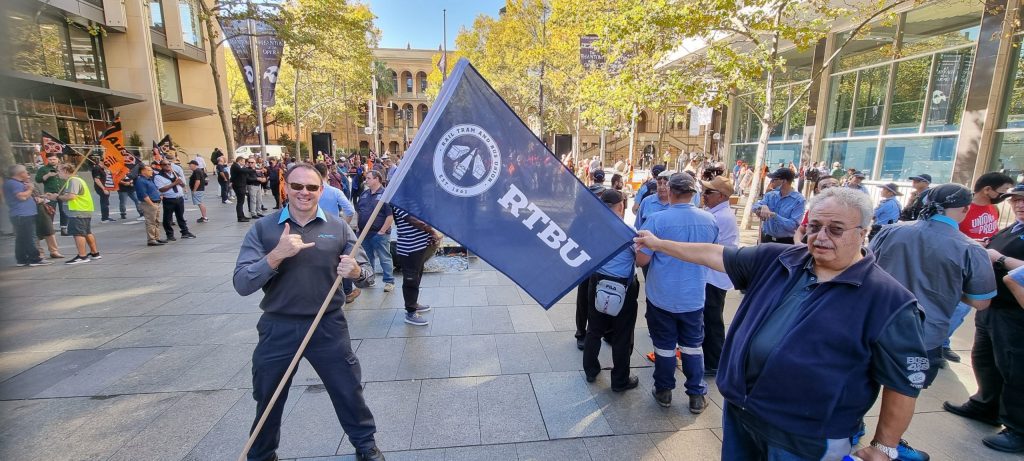 On Monday 11th April drivers from across the private bus sector stood in a united front and took strike action for 24 hours. We all know that the only people we can rely on is ourselves as drivers and on Monday we proved that we could rely on each other with hundreds of drivers attending.
This strike was part of our long saga fighting for same job, same pay. We can't just sit back and let the NSW Government create situations where you have workers doing exactly the same job on different rates of pay and conditions, no matter if it's in Region 6 or other parts of NSW. The government created this situation through privatisation and now what happened in the Region 6 depots is happening at an industry level. Drivers at different companies work under different conditions- things like 13 hour brokens and no standing time. The same things we've been fighting for in the depots is still a battle to win at the wider level.
Bus drivers who do the exact same work should not be segmented by a privatised network and we've been taken for granted for too long.
TfNSW sold privatisation to commuters by saying they control the assets, the timetables, and the fares. But when unions try to push them to provide things like toilets facilities they try and say it's not their responsibility. We're not going to allow that cop out, the government as the economic employer has obligations to drivers and with your support, the union will make sure they meet them.
As RTBU Tram & Bus Divisional Secretary David Babineau told news.com.au, "It's about bringing the government's attention to things that they have the ability to change, but which they really are trying to avoid responsibility for."
"They own all the buses and assets and control the fares, basically setting the timetables.
"They're the economic employer but say they have no responsibility to workers. That's not true – they absolutely do.
"We're in a situation right now where a lot of drivers don't get rostered toilet breaks … it's ridiculous, the fact that in 2022 we would talk about that being an issue. You can read the full news.com,au article here. 
The previous bargaining meeting scheduled for the 19th April has been cancelled by the company. No replacement date has been received by the union yet. In the meantime, further actions are being planned to keep the pressure on!
Check out some of the images from the mass action on the Tram & Bus website.