Randwick depot celebrates ANZAC Day with touching memorial service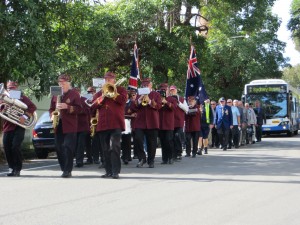 Transport workers and members of the community came together at Randwick depot for their annual ANZAC memorial ceremony. 2014 marks the 66th year of the memorial ceremony and march, with the Randwick Bus Depot honouring the memory of the more than a hundred bus workers who have lost their lives in Australian conflicts.
The service was organised by the Randwick Depot Ex-Serviceman's Club, with President and retired bus-worker Bill McKay presiding over the ceremony. The service was well attended with the area's federal MP, the Hon Matt Thistlethwaite, as well as local councillors and representatives from the State Transit Authority in attendance.
In their traditional style, RTBU members from the Randwick depot joined Ex-servicemen in their march to the memorial, led by the NSW Railway Band and followed by a Sydney Bus to the rear of the column.
RTBU NSW Bus & Tram Division Secretary Chris Preston laid a wreath on behalf of the union. Mr Preston said that the RTBU and the Randwick Bus Depot Ex-Servicemen's Club would endeavor to ensure the historic march and ceremony continues long into the future, both to preserve the Bus Union's long tradition as well as to honour the fallen.