No action on security leaves bus drivers in danger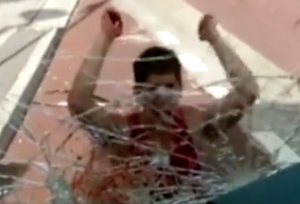 With another violent attack on a Sydney Buses on Sunday afternoon, the union has called for harsher penalties for offenders who assault drivers, passengers, and damage buses.
The latest incident follows the release of statistics that show 1925 assaults have taken place on buses, at bus stops or at depots since 2011 – more than one assault a day.
Bus and Tram Divisional Secretary, Chris Preston said that regrettably we are used to enduring verbal assaults and spitting, unfortunately violent attacks are on the rise.
"Assaults on drivers happen all too often. More than half of drivers have reported being abused, assaulted, and spat on by passengers," Mr Preston said.
"Some members of the public think that drivers are to blame when a bus breaks down, or they get stuck in traffic and take it out on the driver.
"Drivers are just trying to do their job, and make sure that other passengers have a safe journey, but they have to put up with some terrible and illegal behaviour."
With videos of attacks increasingly going viral, Mr Preston said that the community and drivers deserve to feel safe on public transport.
"When you're driving a bus you've got no security guard and nowhere to go if a member of the public behaves in a threatening manner," Mr Preston said.
"Just in the last year, we've had a driver viciously attacked by a man on the drug ice, a man has attacked a bus with a shovel over a road rage incident, and now we see an offender smashing a bus with his own hands."
"These offenders think they can take advantage of situations to intimidate and harass public transport workers and passengers.
Mr Preston said that providing a safe and secure workplace should be a top priority for the government.
"When some of your employees fear for their safety when they go to work, you have a problem that needs urgent attention," Mr Preston said.
"The major difficulty we face is identifying and catching the attackers.  It's one thing to have strict penalties in place, but when someone is able to assault a driver then just flee the scene, there is no justice.
"The NSW Government needs to take the safety of drivers seriously and ensure that offenders are caught, and face suitable punishments."