Monorail must be replaced by better public transport
The State Government today announced that it has bought out Metro Transport Sydney, and will tear down the monorail.
Metro Transport Sydney is the manager of the Monorail and the Sydney light rail service.
The light rail service will continue to be operated by Veolia Transport Australia, as normal, under contract to the State Government.
Bus and Tram Division Secretary Chris Preston said the State Government should seek to redeploy monorail workers to other parts of the public transport network.
"The State Government has an obligation to look after the workers who will be affected by this decision.
"They should be provided with opportunities to work on the light rail system if possible, or found other jobs in the public transport network."
Chris called on the State Government to guarantee that the light rail network would be extended into the city to provide tourists and commuters with better transport options.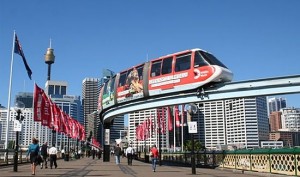 "The monorail might not be as loved as the Harbour Bridge or the Opera House, but it is popular with visitors and has survived as a viable business for 20 years.
"It has provided visitors with an efficient link between the CBD and Darling Harbour, and a chance to see a different view of the city.
"It is shame to lose it, but we have to look forward to make sure that something better is built in its place."
The State Government has said that pulling down the monorail will make it easier to expand light rail.
"We're concerned that this is just a throw-away line to justify tearing down a piece of transport infrastructure," Chris said.
"We need to see a rock-solid guarantee from the Minister that public transport services into the CBD will be improved. Tearing things down is easy – it's time for this Government to start improving bus and tram services."