Light Rail laughs from the Newcastle Herald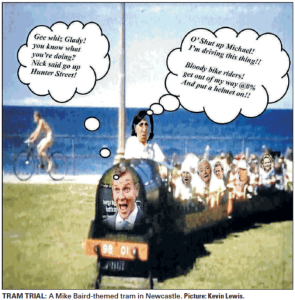 The Newcastle Herald had a bit of fun today with the proposed light rail in their letters section.  Read the full letter below.
Off the rails with Mike and the gang
By Kevin Lewis
A trial run of a new light rail system was held in Newcastle recently.  Kevin Lewis, of Wollombi, was there to capture the event.
"I was surprised the Herald wasn't there," Kevin told Topics. "Not to worry, I had my trusty old 8mm camera with me and got some footage.
With modern technology, I managed to extract a photo and sharpen some of the faces onboard." Kevin dubbed it the "Baird gravy train to nowhere." He said it reminded him of the "Bronte bogey hole train that goes around and around in circles".
Funnily enough, Treasurer Gladys Berejiklian was driving the tram. Premier Mike Baird appeared to be the train itself, in the style of Thomas the Tank Engine. We couldn't quite make out all the passengers, so Kevin filled us in.
Former premier Nick Greiner was in the front row, next to Paterson MP Bob Baldwin. In the next row was former premier Barry O'Farrell and former Nationals leader Andrew Stoner.
A smiling Wallsend MP Sonia Hornery was in the back, following her recent call to extend the light rail proposal from inner city Newcastle to the suburbs.
Kevin observed that Gladys "was not looking too happy". "She nearly wiped out a bike rider," he said. "I heard her yelling at him to get back on the Fernleigh Track and put a bloody helmet on."
Kevin couldn't help but notice that Mike Baird was looking a tad scared at what lay ahead. Kevin said the premier was questioned about the tram's open-air nature. The premier responded with a smile, saying: "No worries mate, we will be handing out umbrellas". "Just pick them up at one end and drop them off at the other," he said. "We're not going to cut costs just because it's Newie, mate."
Thank goodness for that.