How to Train a Bus Delegate
Twenty new relief delegates are prepped and ready after a successful training day at the RTBU office in Redfern.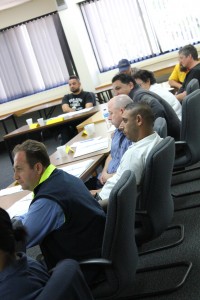 The training program was run by the RBTU executive team and taught delegates everything from disputeresolution and communication strategy to information about their rights and the current enterprise agreement.
Feedback from these sessions has been overwhelmingly positive.
Mark from Newcastle's Belmont depot said after three years with State Transit he want it was time to help stand up for his fellow workers.
"In other jobs I've had, I've always been the bloke talking to the boss about what should happen. It's in my nature. I don't like seeing my mates getting done over, so that's why I'm putting my hand up," he said.