From bus to bike…
Not only does Narelle Sinclair give her time as a RTBU delegate at Brookvale in Sydney, she's also a powerhouse when it comes to raising money for charity.
This year Narelle's epic bi-annual fundraising bike tour (which has been renamed from "Bussies on Bikes" to "On Ya Bike Charity Tour) treks from Newcastle to Brisbane. The last four Bussies on Bikes rides have raised $261,000, including last year's donation of $40,000 to CanTeen and $28,000 to Australian Cancer Research Foundation.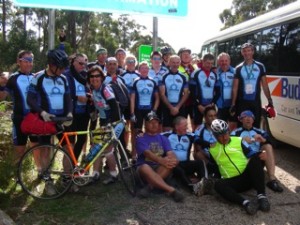 This year funds will be shared between CanTeen and the not-for-profit organisation Building Futures. Established by Laura Wright, a Year 4 teacher at Narraweena Public School on Sydney's Northern Beaches. The organisation is raising money to rebuild an orphanage for 20 children in Haiti that was destroyed by the earthquake of January 2010.
This year the participants will include Narelle and five other Brookvale drivers, four from Port Botany, three from Waverley and 10 from the Newcastle depots. The pack of 30 will be cycling about 95km a day, for 10 days, from Newcastle through the Great Lakes of New South Wales, the Northern Rivers Districts and the Border Rangers staying at historic towns along the way.
The event is sponsored by STA, the RTBU and the Avante Plus bicycle centre in Newcastle. If you'd like to sponsor a rider or donate, please contact Trish van Yzendoorn on 0412 658 322.