Newcastle: Fears introduction of light rail crossing in 2019 will cause traffic congestion along Stewart Avenue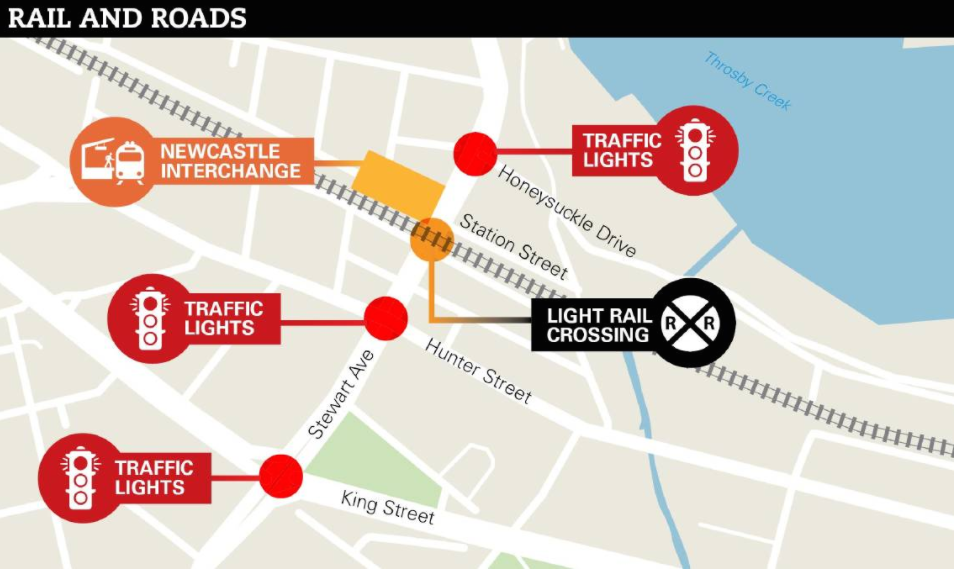 Published in the Newcastle Herald: It was one of the city's most notorious pinch points before the removal of the level crossing and critics fear traffic gridlock will return to Stewart Avenue when light rail arrives in 2019.
But the man charged with overseeing the light rail rollout – Revitalising Newcastle project director Michael Cassel – has promised the trams will have "no material impact" on surrounding intersections.
That has been described as "wishful thinking" by experts such as traffic engineer Ron Brown of Northern Transport Planning and Engineering, who said the impact of the light rail on the arterial road was being treated as a "non event" without the traffic modelling to back it up.
"We haven't got any information on how they are going to manage the conflict between pedestrians, cars and light rail vehicles," he said.
The stretch of Stewart Avenue between King Street and Honeysuckle Drive is already arguably the busiest four hundred metres in the city, with three sets of traffic lights and more than 29,500 vehicles passing through each day.
In two years time, an additional two light rail vehicles will cross the road between Hunter Street and Honeysuckle Drive every seven-and-a-half minutes in peak periods, as they depart from and arrive at the Wickham Interchange.
The Stewart Avenue heavy rail boom gates would interrupt traffic for about 22 per cent and 19 per cent of the morning and afternoon peak periods respectively, and the frustrating delays are an all-too-recent memory for many Newcastle commuters.
We haven't got any information on how they are going to manage the conflict between pedestrians, cars and light rail vehicles."– Ron Brown
But Mr Cassel said there was little comparison with light rail, because the vehicles could cross the road much faster than trains and would not require boom gates.
"The way these things operate, the light rail moves in synchronization with the traffic lights," he said.
"My understanding is the light rail vehicles will proceed [across the road] as quickly or quicker then pedestrians."
Public transport activist Darrell Harris was dubious about those reassurances, saying the light rail crossing would be even closer to Hunter Street than the old heavy rail crossing, further shortening the queuing distance.
"It's going to take very few cars to fill that up, particularly southbound but also northbound," he said.
He warned that could have a domino effect for people wanting to turn into Stewart Avenue from Hunter Street.
"If the north-south traffic is already piled up, you get the green light to turn left into Stewart Avenue and you can't fit in.
"Another safety issue you get is called short stacking, where you get a long vehicle trying to move into a short space and it tails over the intersection."
Mr Harris also believes a "huge increase" in pedestrian movements across Stewart Avenue could further disrupt the existing traffic flows.
"Pedestrians are another competing movement and they are going to be turning up at just about every light sequence begging for their turn to cross."
He said it was unclear where the fleet of buses taking people to and from the interchange would terminate.
"The whole thing has been a drip feed of information and we've never seen the overall picture," he said.
A traffic assessment performed by state government found that by 2028, the intersections of Stewart Avenue with King Street, Hunter Street and Honeysuckle Drive would be operating "satisfactorily", while the intersection of Throsby Street and Hannell Street would be "at capacity".
However Mr Brown questioned the accuracy of the data used in government's models and said key information like queue lengths and delays had been omitted.
He said his own traffic counts performed for private development applications showed the numbers of cars on the road were already greater than government's 10-year forecasts.
But Mr Cassel defended the modelling and said a suite of roadworks would ensure traffic would be able to flow smoothly once light rail was introduced.
"Modelling used in the REF is based on a deep understanding of the local traffic environment, and was developed by local experts working on behalf of Transport as well as independent bodies.
"We have utmost confidence in both the accuracy and appropriateness of the data."
Greens councillor Therese Doyle said the only foreseeable way that there could not be an increase in congestion around Stewart Avenue was if the government's revitalisation efforts failed and people avoided coming into the city centre altogether.
"There's going to be more trams crossing than there were trains and more pedestrians crossing from east to west and west to east," she said.
"The lack of information in this whole scenario is indicative of the way the government is running its planning, with a lot of paperwork and not every much real planning."
Workers at the Honeysuckle precinct said the light rail was a welcome addition to the city but they were apprehensive about more congestion adding time to their daily commute.
"I think there definitely will be problems" said Deb Canias. "Sometimes it used to take me more than 20 minutes just to get from the set of lights on Hunter Street to get to work [at Honeysuckle]. It was so fantastic when the level crossing went."