Depot meetings: in pictures
Dear Member,
It has been a big week for getting the message out about what the Union is doing to fight privatisation. This week we had a depot meeting held at Port Botany on Tuesday. This meeting was attended by not only our members, but also members of the AMWU, ETU, ASU and RTBU(salaried division). This show of solidarity amongst all staff is a huge step in the direction of retaining STA in government hands.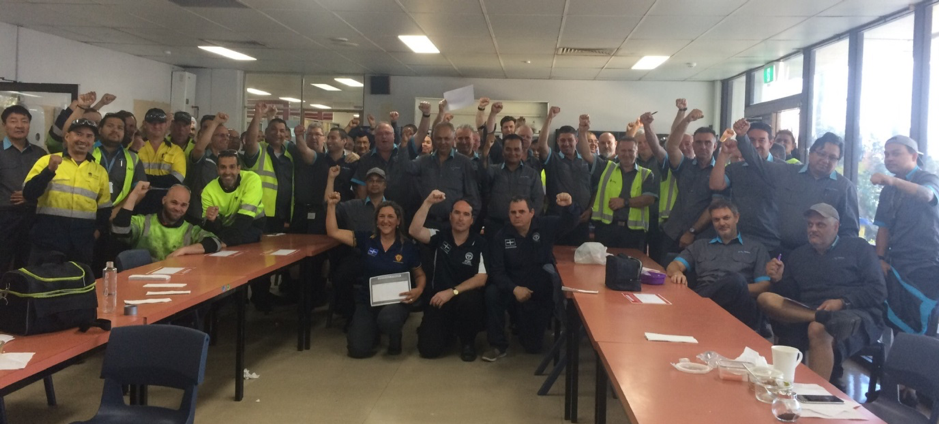 The next meetings were held on Wednesday at Randwick and Waverley. These meetings were slightly different as the local member for Coogee Marjorie O'Neill had been invited to speak by local delegates. STA refused access to the elected member for parliament, so we had to improvise and took the meetings out to the street at Randwick…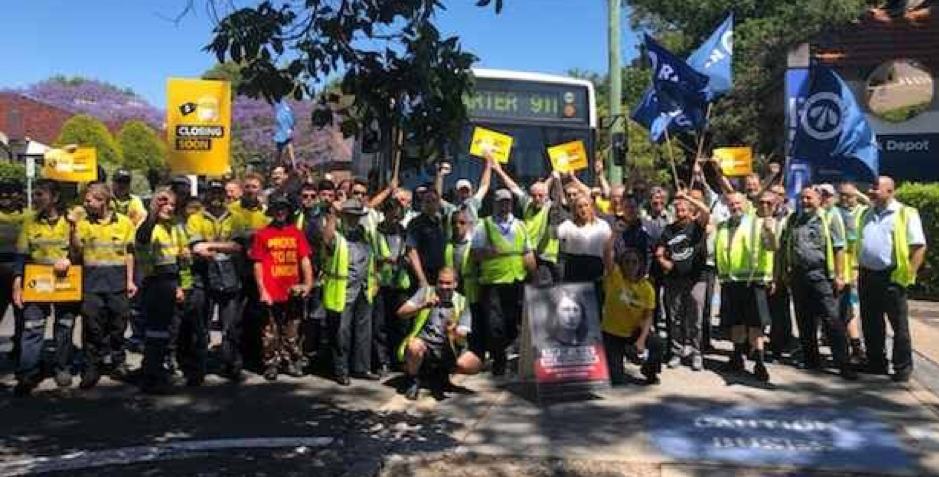 And Waverley where we were also joined by the public and flag waving members of the ASU.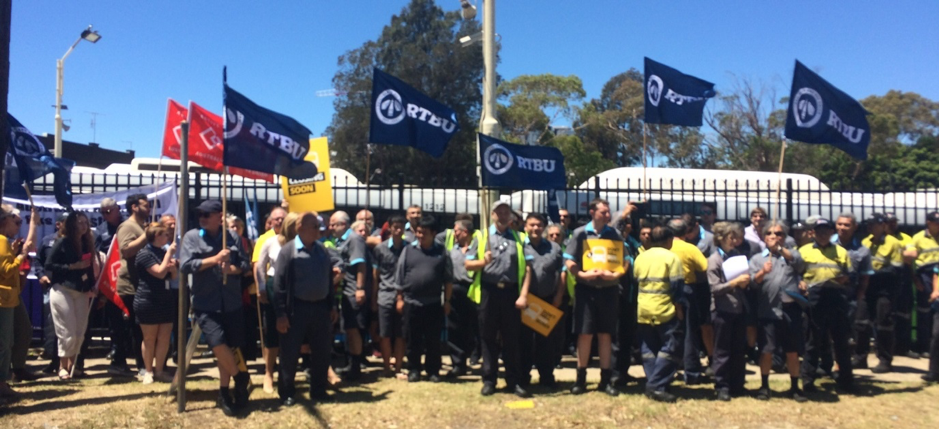 Both these meetings were a success as the majority of staff showed their solidarity by walking out to attend these meetings.
Your Union officials and delegates have been working with not only politicians but local community groups to bring the news to the attention of the public that privatisation is coming and what it will mean for them.
This morning saw the North Sydney delegate as well as members and officials handing out flyers and getting petitions signed at Wynyard Park.
The Union encourages YOU the members to become involved in getting this message out. This is the start of a campaign which will build momentum as time goes on. It's not about the big things at the moment but a hundred small things.
The Union needs its members now more than ever to dedicate their time to this fight, even if it is only for 1 hour. This could be assisting the delegates either in getting petitions signed, assisting in street stalls, attending rallies or letterbox/handing out flyers. The more people know about what the government is doing and how privatisation will affect them personally, the more chance we have of success. People do care about buses but we have to tell them what's going on first.
| | | | |
| --- | --- | --- | --- |
| DATE | TIME | DEPOT | REGION |
| Tuesday 12 November | 10:30am | Brookvale | 8 |
| Tuesday 12 November | 1pm | Mona Vale | 8 |
| Wednesday 13 November | 10:30am – 11:00am | Ryde | 7 |
| Thursday 14 November | 10:30am | Willoughby | 7 |
Remember this is YOUR Union and now is the time to show our strength. Below is some of the things YOU can do to assist in this fight.
Attend depot meetings
Attend rallies
Distribute flyers (out of uniform)
Get signatures on petition (not on the bus!)
Anything you feel you can offer
Randwick is currently leading the pack with over 1000 signatures, and the other Unions have shared the petition far and wide. As has been said, people are willing to help but they can't do it for us.
If you're doing petitions please remember, the Name, Signature, and Address are compulsory but the email and phone number are optional. Without the first three fields, it's a wasted effort.
The next public rally is currently scheduled for 10:30am Village Park, Mona Vale (Corner of Barrenjoey Road and Park Road) and the Facebook event link is below to share or respond to, and the link to the petition is below that.
https://www.facebook.com/events/2453397954949715/
We look forward to standing on the frontline with you in our battle to stop the government from walking away from public transport and the people who spend their lives to provide it.