"We're all on this bus together" Tassie Safety Campaign
The RTBU has proudly launched the first stage of a National Safety Campaign for bus drivers. The launch in Tasmania has been tagged "We're all on this bus together" and serves as a public reminder to be conscious of driver safety.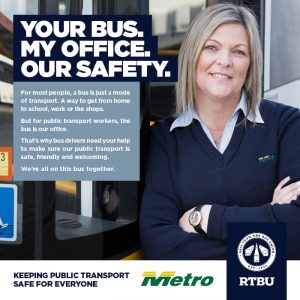 You can watch the WIN News clip about the Tasmanian launch here:
https://web.facebook.com/WINNewsTasmania/videos/1724759074224425/
Or read below the story in the Mercury
AN Australian-first public awareness campaign to promote safety and respect on Tasmania's bus network has been launched in Hobart.
The Rail, Tram and Bus Union campaign urges passengers to treat bus drivers with respect and understanding.
Tasmania is the first state to sign up to the campaign, which will be rolled out nationally, after Metro Tasmania jumped aboard.
RTBU Tasmania secretary Sam Simonetis said a little respect went a long way when it came to safety on public transport.
"A happy bus is also a safe bus," Ms Simonetis said.
"Tasmanian commuters have a reputation for being polite, but it only takes one thoughtless person, whether it's a passenger or a motorist, to cause a distraction.