Brookvale driver takes on the Anzac Day Challenge
Brookvale driver Sally Hill likes to channel her fitness into raising money for great causes.
The past few years she has done the Big Red Run to raise money for juvenile diabetes and this Anzac day she is taking on the Anzac Day Challenge.
The Anzac Day Challenge is a 100 kilometre run or walk through both the Ku-ring-ai and Garigal National Parks, finishing at Manly Dam. Sally is raising funds to support charities Soldier On and Mates 4 Mates for the care of those who have served our country and require ongoing support.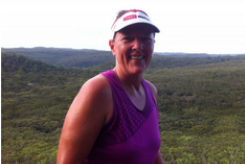 Here's what Sally has to say about the challenge:
"Funds raised go to support the families of those affected by war. I will be competing in honour of my grandfather Thomas Hutchings who fought in New Guinea during the 2nd World War and is someone I was very close to growing up. My journey on Anzac Day will be very small compared to what our heroes endure during battle."
You can help Sally raise much needed funds for the families of those affected by war by visiting her sponsorship page here.