Banning thugs on our public transport a good idea
Shadow Transport Minister Ryan Park is advocating for legislation which would ban thugs who commit serious offences on our transport networks from using these services.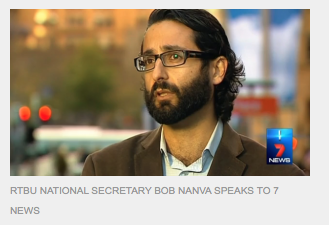 Rail Tram and Bus Union National Secretary Bob Nanva told Seven News that the union would support Labor's proposal.
"If you are at the football and you throw a punch at another spectator, we rightly expect you to be banned from that stadium. Why doesn't the same apply to the public transport network?" Mr Nanva said.
As transport workers we know all to well that violence is a very serious issue on our trains, stations, buses and trams.
It's shocking how many members report being abused, threatened, assaulted or spat on as they go about their daily duties. As our recent member survey found, 83 per cent of guards, 60 per cent of station staff, and 53 per cent of bus drivers have reported being abused by a member of the public.
No one should have to put up with this sort of violence and degradation at their workplace, and public transport users shouldn't have to put up with it either. 
Public transport users also have a responsibility to behave within the law and to treat staff and their fellow passengers with basic dignity and respect. If they can't meet that basic responsibility, the union agrees that they should not be allowed on public transport.
Watch Bob Nanva's interview on Channel 7 here.