Another win! Region 6 bus privatisation to be debated in Parliament!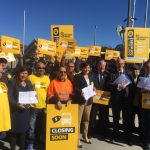 On Thursday the 20th of July, we handed over the 14,000 written petitions collected in the Don't Sell Our Buses campaign to NSW Opposition Leader Luke Foley, and NSW Greens Transport Spokesperson Mehreen Faruqi.
A petition of more than 10,000 signatures means that Constance's drastic decision to privatise region 6 buses will be questioned and debated in Parliament. With our members in their 7th week of having their Industrial Allowances stripped just for defending their own jobs, now is a critical time to escalate our campaign.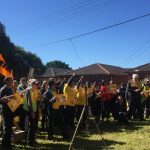 It's overwhelmingly clear that alike our drivers, the community want to keep public buses in public hands and now it's time for Constance to face the truth. Commuters from across Sydney have stood with our drivers in solidarity against the threat of privatisation and the NSW Government cannot ignore the consensus of the workers and the community.
Bus Division Secretary, Chris Preston, stated that "Now we have forced the NSW Liberal Government to hear our concerns and listen to the community. Maybe if Constance had done his job in the first place and actually consulted community members and bus drivers before announcing this drastic decision, we wouldn't have to do this.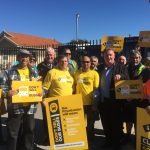 "But Constance didn't do his job, and now our drivers and the community have done their job and collected 14,000 signatures to have their voices heard by Parliament."
We will be sure to keep members updated once there has been a date set in Parliament to battle Constance's privatisation overtake. We thank members, community volunteers, Unions NSW, AMWU and USU and all politicians involved in making this campaign an incredible success so far.