The Story of the Christmas Bus
By Margaret Pannell
Being second eldest of seven kids, Christmas was always a big deal. Because of my younger siblings we all still had Santa till I got married and left home at 18.
Tragically my husband committed suicide November 1981, leaving me at the age of 23 with 2 children, Jodie aged 4 and William, aged 22 months.  That was the worst Christmas of my life.
When I started driving buses in 1997 I was part time so got to know my regular passengers. The majority were elderly people who had lost loved ones, and/or had no family and Christmas was not a time they looked forward to.
The week before Christmas I decided to put some Christmas carols on a cassette tape and played them on the bus. Other than the music there was only one length of tinsel on the dash. It was a big hit.
The following year I organised with management to put some decorations on a bus and use the same bus every day.
Each year, as it's popularity grew, so did the extent of the decorating.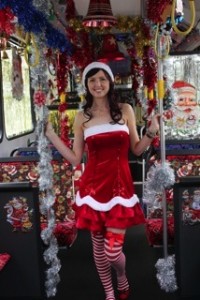 As well as normal rostered shifts, the Christmas Bus has been used for Christmas light tours for Camp Quality and local aged care facilities. These tours were offered free of charge with me as the volunteer driver (my fellow drivers were too embarrassed to drive it).
By 2005 the bus was equipped with flashing lights, a stereo system to play Christmas carols, every seat had a Christmas seat cover, lollies for every passenger, candy canes for the kids, Christmas printed tickets and a couple of drivers including a Santa who were willing to drive it for me on my days off to keep the bus on the road.
By that time the tradition amongst the local community was to get on the bus with their children and have a photo taken. The following year all the photos were made into a DVD slide show and sold on the bus for $2 a copy. All proceeds go to our local Mater Hospital's oncology unit.
Southern Cross TV made a half hour documentary called The Christmas Bus in 2005.
After this went to air in early 2006, then CEO John Lee was so impressed he declared that from Christmas 2006, every depot in Sydney and Newcastle could decorate one bus, and they enter them into a competition for the best bus.
Due to logistics Newcastle is not entered into the competition but $500 is donated to the Mater Hospital from the Hamilton and Belmont competition (we don't compete, we share the prize)
We now have two buses, my Hamilton Depot Christmas Bus and Suzi Juno's Belmont depot Elf Express.  We now have a number of drivers willing to drive for us so both buses are on the road every day from around December 1st – Christmas day inclusive.
This year, aside from normal driving shifts, the Hamilton Christmas Bus has operated Christmas light tours for 2 nursing homes, 2 staff tours and a tour for the Mater Hospital nurses.
Last year $1300.00 was raised for The Mater Hospital and this year, including the STA Christmas Bus Competition donation, we have reached $2000.00.
I would like to thank management for giving me the opportunity of continuing to do this every year. It means a great deal to me and the people in our community.